This article will show you how to connect your Etsy account to Solid Commerce.
Before You Connect to Etsy
Before connecting to Etsy, you need to create a Warehouse (or Vendor Inventory List), create a Market List, and create an Etsy Pricing Rule.
Connecting to Etsy
1) Go to the Marketplace menu -> Sales Channel Connections
2) Click on the Etsy tab.
3) Enter your Shop name from Etsy.
In Etsy, click on Shop Manager in the to top menu. At the bottom of the page, under SALES CHANNEL, copy the Etsy shop name.
4) Enter your User Id from Etsy.
In Etsy, click on You to view your user id.
5) Click the Connect to Etsy button.

6) Etsy's sign in page will load. Sign in. Click the Allow Access button after signing in.
Importing Live Listings
Before importing your live listings, we recommend getting familiar with the type of data that imports and the way imported SKUs are handled. For details, see Importing Live Listings From Etsy (Including SKU Formation and a Description of the Data That Imports).
If you're ready to import:
1) Check the Automatically insert new products from Etsy check box.
2) Select the correct:
Warehouse name
Market list name
Import pricing rule
Automation *** Automation ON will allow Solid Commerce to send price and quantity updates back to Etsy. Please ensure you are ready to do so if you turn this setting to Automation ON!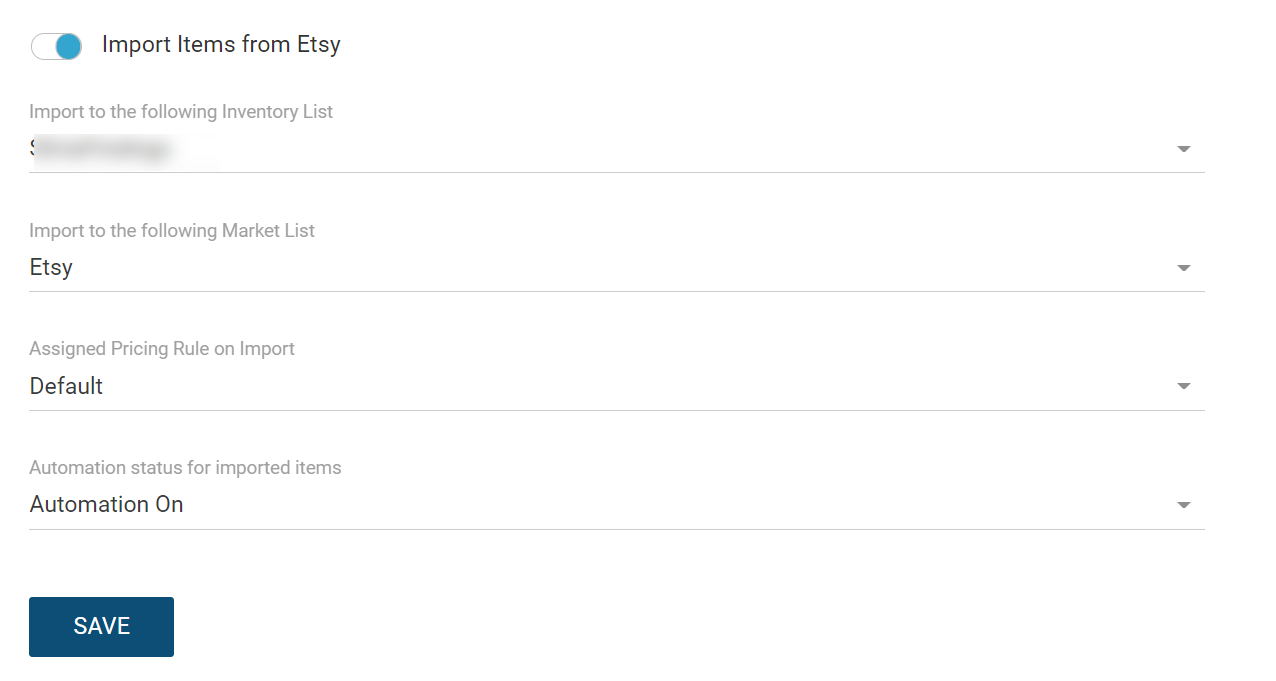 ***If you are new to Solid Commerce, we recommend importing your listings with the Default automation status set to: Start NOT Automated.
With the automation off, Solid Commerce will not communicate with Etsy. We will import orders, and track quantities, but we will not send quantity or price updates to Etsy.
Once you are certain the quantities in Solid Commerce are correct, and understand how to manage your inventory, prices, and listings, you are ready to turn the automation on.
Go to your Etsy Market List in the Inventory Manager. Select all of your imported listings and click the Start Automation button.
If you need to import listings on an ongoing basis, come back to this Marketplaces Setup page. Change the Default automation status to: Start Automated.
4) Click the Update Etsy Auto Insert Rule button.
Managing Etsy Orders
Choose the Order Import date and time for orders to start importing.
Unfortunately, Etsy doesn't make shipping methods available through their API, so we can't pull the correct methods. In Solid Commerce, all orders will have a Ship Method of Standard. The original shipping method requested by your buyer will continue to be available on Etsy.

Related Articles