A Market List is like a folder for your product listings. Each Market List is associated with a specific marketplace, like eBay or Amazon.
Most of the time you will only need one Market List for each marketplace. However for eBay, you might need more than one if you want to list the same products both fixed price and auction-style. That's because each Market List can only hold each product once.
What we cover In this article:
Creating a Market List
1) In the Products menu -> Inventory Manager.
2) Click the Add button.

In the drop down menu that appears, select New Market List.

3) In List Name enter any name you want, such as Amazon or eBay.
4) In Sell on marketplace,
Marketplace: select the marketplace, such as eBay, Amazon Seller Central (Default), or another marketplace.

If you are connecting to one of the webstores we are integrated with (Bigcommerce, 3dcart, etc.), select My Store from the Sell on marketplace drop-down menu.
Even if you plan to use Amazon FBA for fulfillment, don't choose Amazon FBA—FBA is included as part of the Amazon Seller Central setup.

Country: depending on the marketplace you select, a drop-down list of countries will appear. Select the correct marketplace, such as US.
Click the Create market list button.

5) If you want to add other market lists, repeat steps 2-4.
Viewing a Market List
1) To see the market list(s) you added, next to the word Marketplaces, click the + sign to expand the list.
Click the + inside Marketplaces next to the marketplace that contains the Market List you want to view.
Market contents: Once your Market List has some products in it, the parentheses after a market's name will show the total amount of inventory and the number of products held in the market list, just like in the example below.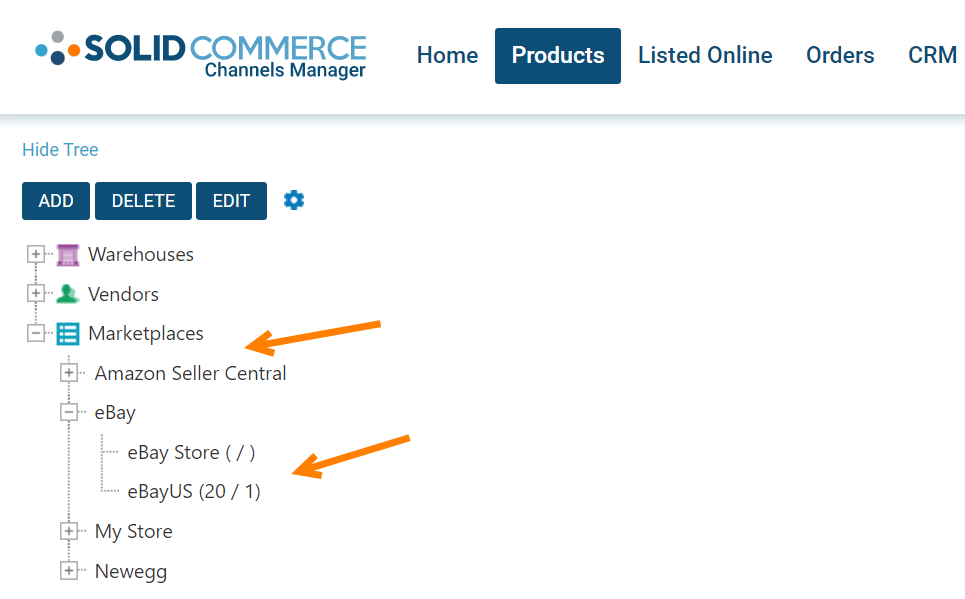 2) To hide the list and buttons, above the Add button click Hide Tree.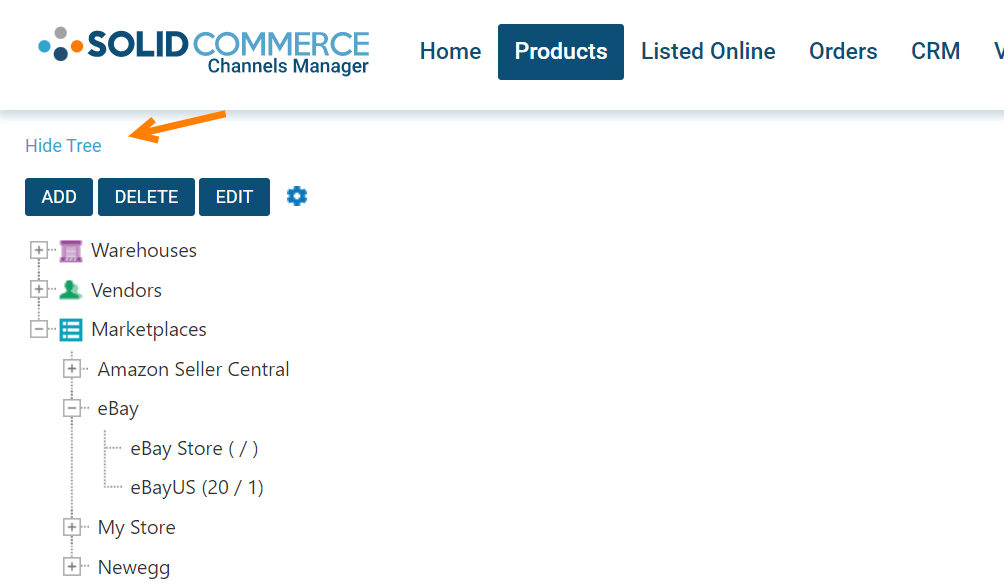 These simple steps have you headed towards completely setting up and fine-tuning Solid Commerce to work with your marketplaces.
If you want to change (or remove) the market list you set up, you can see our article Editing or Deleting a Warehouse, Vendor Inventory List, Market List, or Vendor.