This article explains what an eBay Listing Template is and how creating one makes listing to eBay faster and easier.
The Solid Commerce eBay Listing Template is organized into several sections. Please see the Descriptions of the Fields in the eBay Listing Template section of this article for assistance populating each section.
What we'll cover:
A Description of eBay Listing Templates
eBay Listing Templates allow you to quickly apply saved settings to products you want to list or update.
Examples of some of the settings found in the template are: eBay category, ship from location, shipping options, buyer restrictions, eBay HTML description, and more. With templates, you don't need to apply these settings to individual items.
You can apply a template when you list items through a spreadsheet or the user interface. Using eBay Listing Templates is not required. However, we recommend creating at least one template containing your stock settings.
Reasons You Might Need Multiple eBay Listing Templates
It's important to note that all of the settings in the Solid Commerce eBay Listing Template can be changed through our user interface. Most of the settings can also be overwritten through Excel. Overwriting settings from the template offers you a great deal of flexibility when you list items.
EXAMPLE: You create an eBay Listing Template for one category, but want to use the same template to list products in other categories. You can accomplish this by overwriting the category as you list products.
GOAL: To find a balance between creating templates and providing details about each item you list. If you only create one template, you will need to provide all the eBay details for every product. This could result in a lot of data entry. If you create many templates, you will need to know which template you should apply to each product. This might make it difficult to keep track of all the templates.
When do you need multiple templates? A few of the more common reasons are:
Using one template to offer free shipping on some items and another template to offer flat rate shipping on other items.
Using one template for fixed price listings and another one for auctions.
Creating a different template for each category (if you don't list to very many categories).
Using one template that allows returns and another that does not.
Creating an eBay Listing Template
After you create your first template, we recommend testing it on one product before creating more templates. If there is an issue with the settings in your template, it is easier to update one template than several.
Here are the basic steps for creating an eBay Listing Template:
1) In Solid Commerce -> Marketplaces menu -> eBay Listing Templates.
2) Click the New Template button.
3) Enter a name in the Title field.
We recommend using a simple, yet descriptive, name. You will need to reference the template name when you list products.
4) You can click on the Expand All link if you want to fill in the entire template, or you can expand each section one at a time.
5) Click on the Save Changes button at the top whenever you want to save your work.
6) Once you have a template that works, you can click the Duplicate button to create more templates.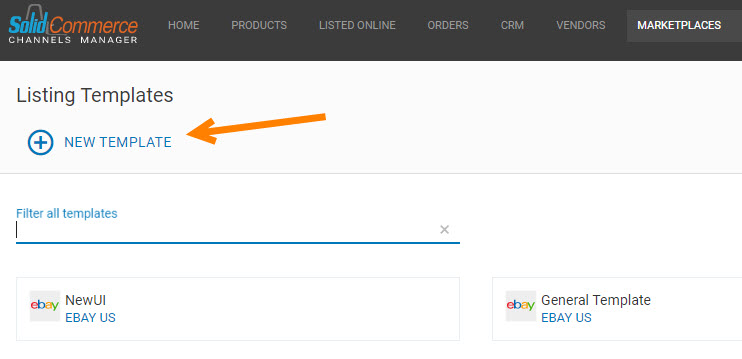 Applying Your eBay Listing Templates
Applying Your eBay Listing Templates Through Excel
To apply templates:
1) Populate the apply ebay template field with the name of your eBay Listing Template.
2) Upload the file with a Marketplace Update.
Applying Your eBay Listing Templates Through the User Interface
To apply a template through the UI:
1) Select the item you want to apply a template to in an eBay Market List.
2) Select the template you want to apply in the Listing Template drop-down.
3) Click the Apply Listing Template button.
Related Articles
Descriptions of the Fields in the eBay Listing Template
Other Related Articles