This article will show you how to connect your Solid Commerce account to your eBay and Half.com accounts.
What we'll cover:
Before You Get Started
IMPORTANT!
When we auto-import your listings from eBay, we only import active listings.
We use the Custom Label from eBay as the SKU in Solid Commerce.
It is important for each listing to have a unique Custom Label in eBay. If several listings share the same Custom Label, we will import the first listing normally. When we import the next listing with that same Custom Label, we will add its Listing ID to the first listing. We will not recognize it is a different product, so it won't import as a separate listing. This can cause issues with prices, quantities, titles, and other listing information.
If you sell variation-style listings, each variation item (child item) must have its own unique Custom Label.
Generally, it is best if the listings on each marketplace use the same SKUs. However, if your listings don't have Custom Labels, or the Custom Labels don't match the SKUs on your other marketplaces, there are several ways you can align your listings. Please contact your Implementation Manager to review your unique situation.
Setting up Solid Commerce for the Connection
Before you connect to eBay, you need a Warehouse (or Vendor Inventory List), an eBay Market List, and a basic eBay Listing Rule.
Please see the Related Articles section if you need assistance creating a Warehouse, Market List, or rule.
Connecting to eBay
1) In the Marketplaces menu -> Sales Channel Connections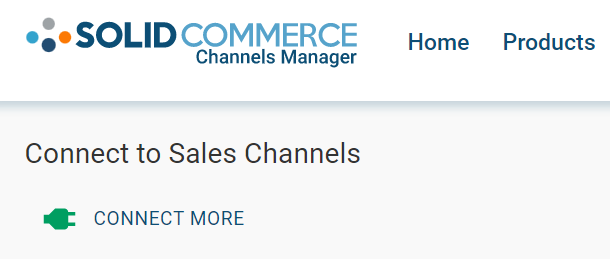 Choose eBay and enter an Account Profile Name to identify this account and click Continue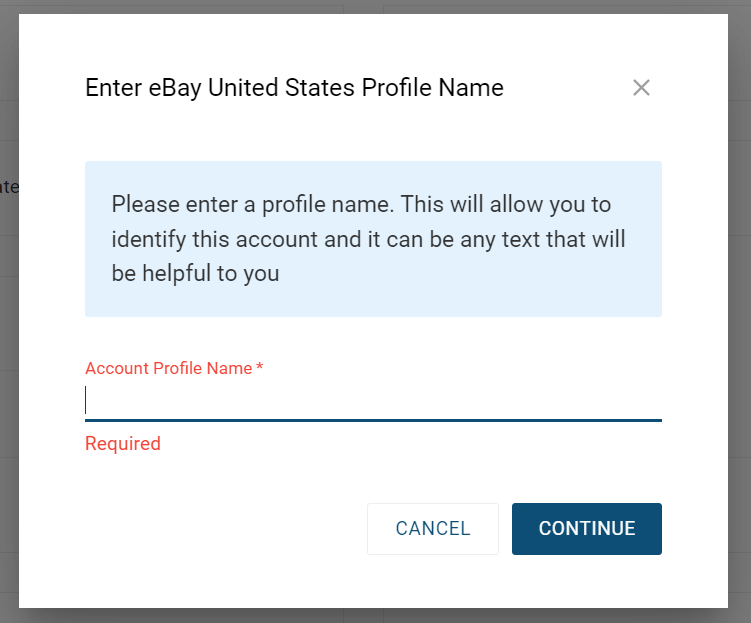 2) Check whether your skus are unique or whether you do not use skus or your skus are not unique. Click "Connect" and log in to your eBay account with the Admin login
3) In the eBay pop-up window, enter your eBay Username (or email) and your eBay password. Then click the Sign in button.
4) On the next screen, click Agree. This will complete your connection
5) eBay Auto Import Setup:
You can import your orders even if you aren't importing your listings yet. However, without your listings, we cannot properly recognize the items in the orders. This can make fulfillment and shipping difficult.
If you don't want to import your orders yet, you can set the Start Sync Orders from DT to a time in the future. If you are ready to import your orders, set the date and time to the present
The Custom Label field on your eBay listings will import as the SKU in Solid Commerce.
Before you import your listings from eBay, you must verify that each listing has a unique Custom Label. If you sell variations, you must also ensure that each variation on your listings has a unique Custom Label. For instructions on modifying Custom Labels in your eBay account, please refer to eBay's documentation.
We recommend consulting with your Implementation Manager prior to importing from any marketplace. Because each marketplace structures data differently, the information that imports differs per marketplace. Your Implementation Manager will assist you with a customized import strategy so that you can capture as much data as possible from each of your marketplaces
If you're ready to import:
Check the Import Orders from eBay
Check the Import Items from eBay checkbox.
Select your:

Warehouse name
Market list name
Import pricing rule

If you are new to Solid Commerce, we recommend importing your listings with the Default automation status set to: Start NOT Automated.
With the automation off, Solid Commerce will not communicate with eBay. We will import orders, and track quantities, but we will not send quantity or price updates to eBay.
Once you are certain that your Solid Commerce inventory is correct, and you know how to manage inventory, prices, and listings, you are ready to turn the automation on.
To automate your products, go to your eBay Market List in the Inventory Manager, select all of your imported listings, and click the Start Automation button.
If you need to import listings on an ongoing basis, return to the Marketplaces Setup page, and change the Default automation status to: Start Automated.
IMPORTANT!
Once you turn the automation on, make all quantity and price adjustments through Solid Commerce, not directly in your eBay account.
6) Click Save
Related Articles