This article will show you how to add products to a Warehouse or Vendor Inventory List through Solid Commerce's user interface (UI).
Products need to exist in your Solid Commerce account before you can add them to a Warehouse or Vendor Inventory List. Please see the Related Articles section for articles about creating products and Warehouses/Lists.
What we'll cover:
Adding a Product to a Warehouse
1) If you need to find a product you created but never added to a Warehouse, you'll need to search for it in the Products Manager.
Go to the Products menu -> Products Manager.
Search for your product. Click the yellow house icon. Select a Warehouse from the drop-down. Skip to Step 4.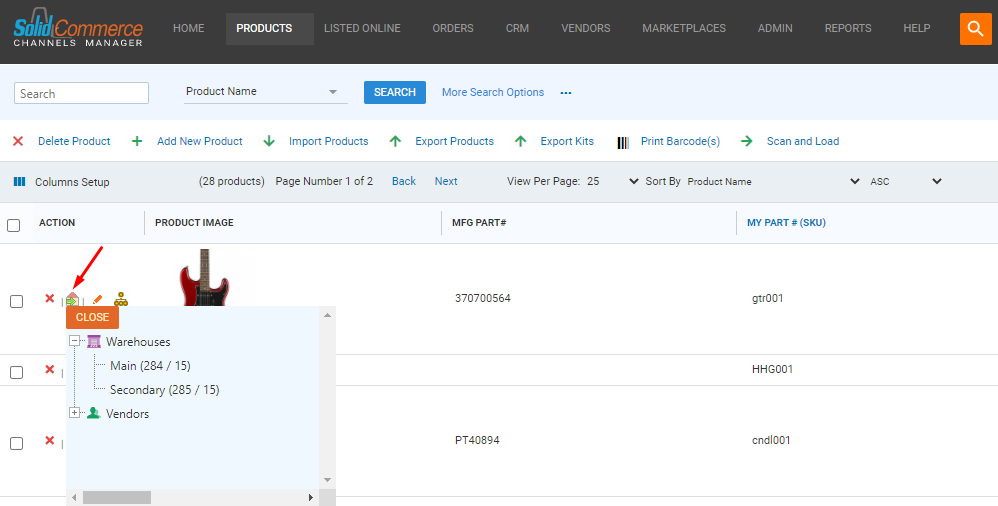 2) If you are creating a product, click the Save and add to Warehouse button at the bottom of the Product Details window.

3) Select a Warehouse from the Add to Warehouse/Vendor drop-down menu.

If your product already exists in the Warehouse you selected, a rectangular bar will appear confirming the current inventory and allowing you to add to it.
For more info about updating existing products, see Updating Quantity, Cost, and Storage Location.

4) Fill in any of these inventory fields:
Add Qty — This is the only required field. Enter the number of items you have in stock.
Cost — Your acquisition cost (not the price your buyer pays).
Storage Location — The bin location of the product in your physical warehouse.
Stock Note —

You can write a note about adding your product to the Warehouse. Notes can be viewed in the Quantity History pop-up.
5) When you're done, click the Add to New Location button.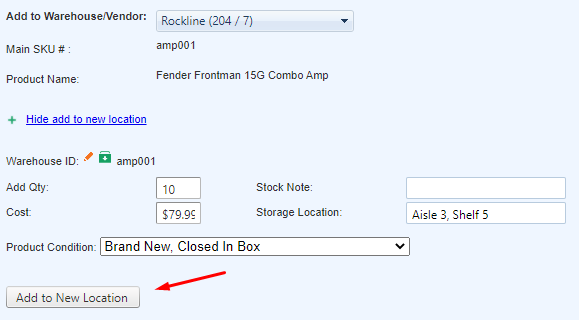 The Add to Warehouse window will refresh and confirm your product was added to the Warehouse.
Adding a Product to a Market List
In order to list your product on a marketplace, you need to add it to a Market List. If you still have the Add to Warehouse window open, you can click on the Add to Market List button. Check out our articles about listing to the Marketplaces for more info.
Related Articles