This article will show you how to connect your Shopify webstore to your Solid Commerce account.
NOTE:
Our full featured webstore integration does not support Shopify's separate Point of Sale system. If you are interested in an integration with Shopify's POS, please leave us a comment at the bottom of this article or contact our support team. We would be happy to evaluate the project.
What we'll cover:
Setting up Solid Commerce for the Connection
Before you connect to Shopify, you should have a Warehouse or Vendor Inventory List, My Store Market List, and a My Store Pricing Rule.
To learn how to create them, see the Related Articles section.
Connecting Solid Commerce to Shopify
1) In Solid Commerce, go to the Marketplaces menu -> Sales Channel Connections
2) Choose the Shopify US cart icon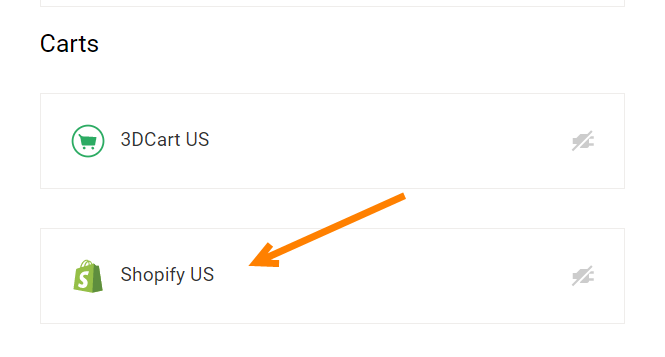 3) Name your Shopify profile for your Channels Manager account and click Continue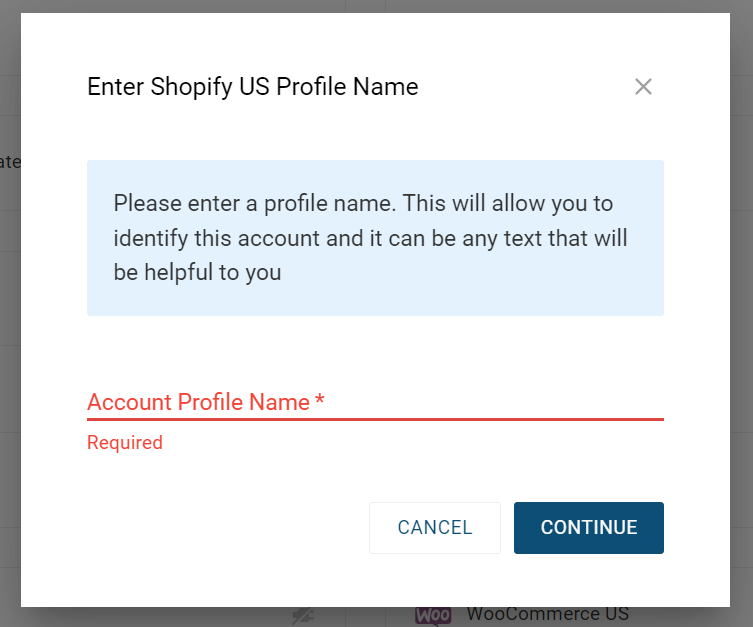 4) Click Connect, this will redirect you the Solid Commerce App Page
5) Login to Shopify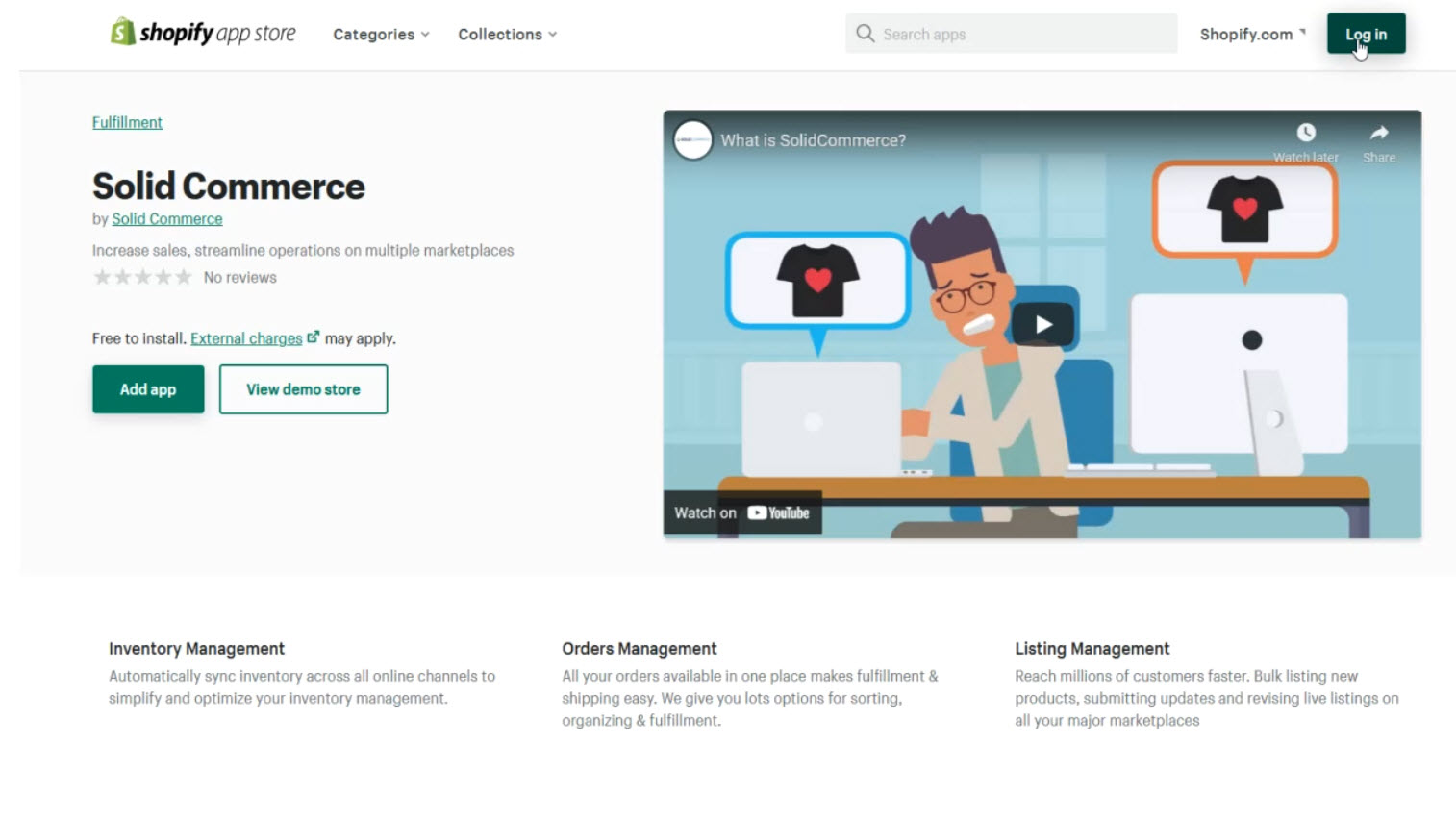 6) Click Add App
7) Click Install App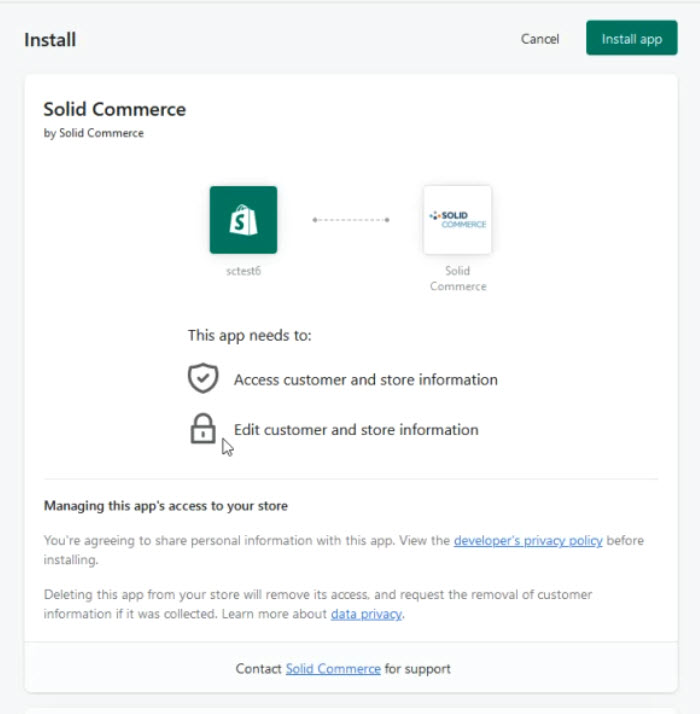 Shopify Auto Import Settings
NOTE:
Before you import your listings, it's important to understand how your SKUs and information will import into our platform.
If you're not ready to import yet, or don't have any active listings to import, you can always return to this Marketplaces Setup page later to turn on the import.
IMPORTANT:
We cannot import any items that don't have a SKU in your Shopify store.
Also, when we import variation listings from Shopify, we import all of the images saved to the parent item However, we cannot import images saved to child items.
If you are ready to start importing your Orders and deducting inventory, toggle the Import Orders tab and choose the date and time you wish to start the order import.
If you also want to import Unpaid Orders, check that box as well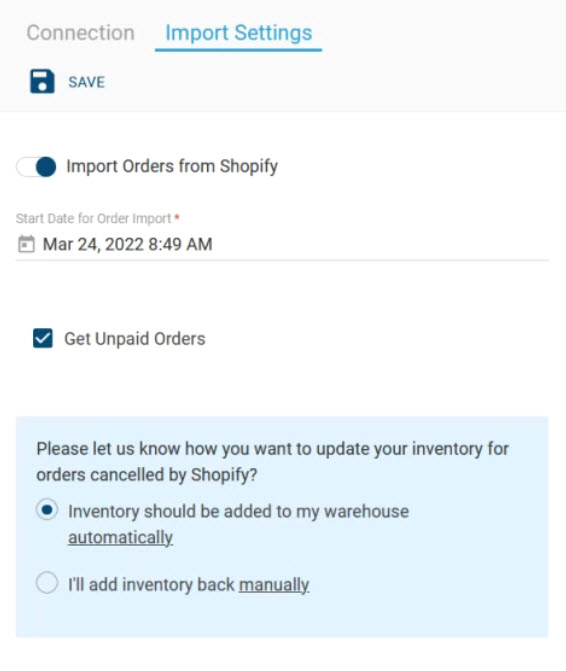 If you're ready to import products, follow these steps:
1) Toggle the Import Items from Shopify box.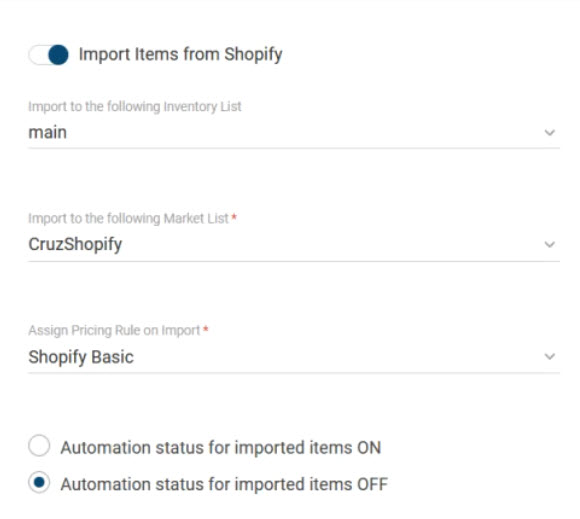 2) Select the correct:
Warehouse name
Market list name
Import pricing rule
3) If you are new to Solid Commerce, we recommend importing your listings with the Default automation status set to: Start NOT Automated.
With the automation off, Solid Commerce will not communicate with Shopify. We will import orders, and track quantities, but we will not send quantity or price updates to Shopify.
Once you are certain the quantities in Solid Commerce are correct, and are comfortable managing your inventory, prices, and listings, you are ready to turn the automation on.

Go to your My Store Market List in the Inventory Manager. Select all of your imported listings. Click the Start Automation button.

If you need to import listings on an ongoing basis, come back to this Marketplaces Setup page. Change the Default automation status to: Start Automated.
4) Click Save.
Related Articles