What we'll cover in this article:
Creating a My Store Pricing Rule
A My Store (MyStore) Pricing Rule is a simple way to control your prices on any of the shopping cart providers we integrate with, such as Bigcommerce or 3dcart. Here's how you set up a rule:
1) In the Solid Commerce site, go to Marketplaces menu -> My Store Pricing Rules.
2) Click the Add Rule button.
3) Enter a Rule name.
4) Choose a Pricing Rule Option.
Do not update My Store prices means you'll set your prices directly in your webstore.
Set prices as in 'My Store' Sale Price Exp is the most common setting to use.

It lets you assign a fixed price in Solid Commerce.

It also allows you to use the word cost or msrp in a simple equation instead. That way your sell price on the webstore will update as your acquisition cost is updated in Solid Commerce.

EXAMPLE: cost+5 will add $5.00 to the cost you have saved in Solid Commerce.

Set prices as my Amazon price or Set prices as my eBay price sends your Amazon or eBay price to your webstore.
5) For Big Commerce, Volusion, Magento, 3DCart, Yahoo you can also select to allow pricing updates for items that are offline by selecting "Allow repricing for offline items". Shopify and Woocommerce to be supported soon.
6) Click the Save Automation Rules button.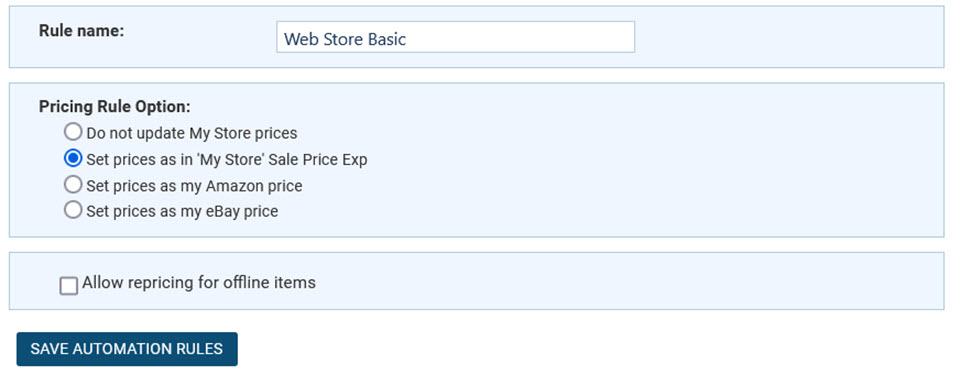 If you revise a rule that is already applied to listings, the changes you make will immediately affect the listings.
You don't need to take any action to apply the changes to your listings.
If you created a new rule, or want to change the rule applied to one or more listings, you can apply it through the user interface in your My Store Market List in the Inventory Manager. You can also apply rules through the market auto rule column in a spreadsheet.
Solid Commerce lets you save multiple rules. That gives you the option to apply a fixed price rule to some products, and an Amazon price match rule to others. You can easily change rules at any time.
Related Articles