We are excited to announce the release of the new Add-on "Automatic Kit Costs Calculation" feature.
This is a premium feature module. Please reach out to your Growth Advisor or support@solidcommerce.com for pricing and to enable this feature on your account.
The Obstacle:
We identified that currently, Kit Parents only add up the total of quantity/inventory from the kit parts. It doesn't add up the total of the kit part costs. Sometimes the vendor changes the costs and users have to re-calculate manually.
Example: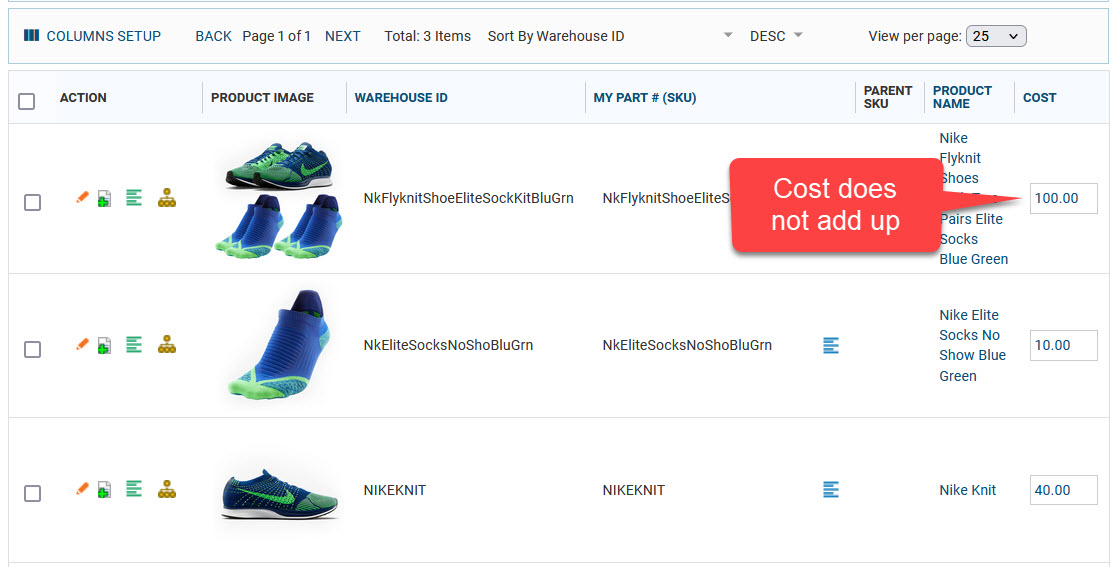 The Solution:
Implementation of Automatic Kit Costs Calculation for Kit Parts.
How to set Automatic Kit Costs:
Search for the Kit Parent SKU in the warehouse or vendor list.
Click on the Kit icon of the Kit Parent SKU in the warehouse to open the Product Kitting Details

window

.
NOTE: do not select the Kit Parent SKU in a marketplace list as this logic is implemented on the warehouse level.


You set Kit cost in the Product Kitting Details window by clicking the pencil icon for kit parent:
Then click the check mark under Automatic Cost Calculation and lastly clicking the Update green check mark. After that you can close the Product Kitting Details window.
Once the set up is complete a cycle will run every 5 mins that will calculate the Kit Cost. Also the cost field of the Kit Parent will be greyed out.
Restrictions:
If you have kit parts with different costs in different warehouses, then Automatic Kit Cost calculation will be disabled for this Kit. We won't be able to know which cost to use in this case.
Automatic Kit costs will be calculated only if there is only one inventory source for each part and no alternate parts configured.

This means that a Kit shouldn't have multiple Inventory sources
If you use alternate parts, please reach out to Support!

If the Kit is calculated automatically, changing the costs for this Kit will not possible to change through the UI, ( it will be grey out).
Current Limitations:
Currently, the kit cost calculation cannot be updated in bulk through the Excel Add in tool - only in the User Interface. If you have a large amount of kits to update, please reach out to Support!
Related Articles