With tonight's release (Wednesday, 5/8/19), we are adding one new feature to the platform.
What Is Being Added?
We are adding your shipping history to the beta order manager. The history will appear as a new tab in the Ship Now flyout panel. All of the orders that you try to ship will be included - even orders that fail. The panel also includes a summary at the bottom.
The history will refresh every day. All orders from the current day will be included.
You will also have the ability to download the history as a CSV (comma separated values) file.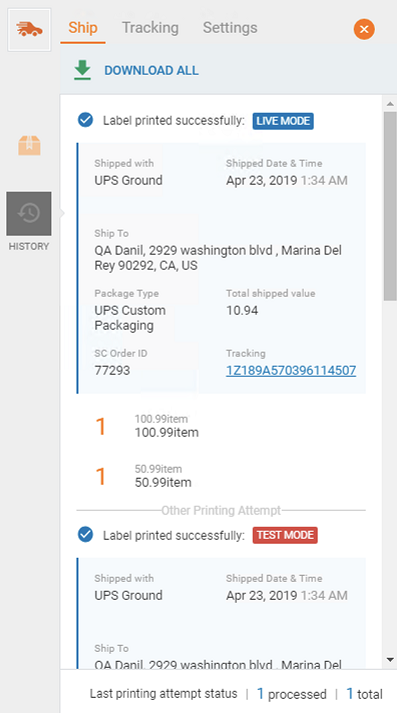 What Can I Do With the History?
The shipping history provides you with a confirmation of your shipping activity for the day. If you wonder whether or not you printed a label for a particular order, or you experience an issue, you can check the history for more information.
In addition to the shipping history, the Shipping Client printing agent that runs on your computer as a separate widget saves logs to your computer's hard drive. These log files are more detailed than the shipping history in the user interface. If you experience an issue shipping, a member of our support team may ask you to email them some of the log files. The logs help our staff perform a more thorough investigation.
Will I Be Affected?
If you have access to the beta order manager, you will see the history button in the sidebar menu of the Ship Now flyout panel. The history won't affect your shipping workflow or impact you in any way.
If you don't have access to the beta order manager, you won't be affected.
When Will the Shipping History Be Added?
We will perform the release tonight, Wednesday (5/8/19), at approximately 10:00 PM Pacific Time. There won't be any downtime due to the release. You will be able to view your shipping history Thursday morning.