This article explains how to list FBA products on other marketplaces so that Amazon can automatically fulfill orders for you.
What we'll cover:
The Benefits of Listing FBA Items on Other Marketplaces
FBA Orders from other marketplaces are automatically sent to Amazon for fulfillment.
Solid Commerce receives quantity updates from Amazon, and we keep your inventory accurate on your other marketplaces.
Amazon reports tracking information to Solid Commerce, which we then submit to the marketplace where the order originated.
NOTE:
While many of our clients save time and money listing FBA items on other marketplaces, please be aware that Amazon charges higher fees for fulfilling non-Amazon orders.
Before You List FBA Items to Other Marketplaces
Before you can list items to other marketplaces, you need to import them from Amazon.
If you haven't done so already, enable the import settings in your Amazon Marketplaces Setup, and select a fulfillment policy. For more info on connecting to Amazon, please see Connecting to Amazon Marketplaces, Amazon FBA, and Amazon Webstore.
How to List FBA Products to Other Marketplaces:
Listing an FBA product to a marketplace other than Amazon is the same as listing a product that you will ship yourself. The important difference is that the PO Sources on your listings should point to your FBA Warehouse.
If you list through Excel, ensure that your PO Sources column is populated with FBA Warehouse.
If you list through the Solid Commerce user interface, you can move the product into a Market List directly from your FBA warehouse, just as you would from any other Solid Commerce Warehouse.
Go to Products> Inventory Manager> Expand your Warehouses> Choose your FBA Warehouse and find the sku you wish to move by selecting the check box to its left> click "Add to Market List"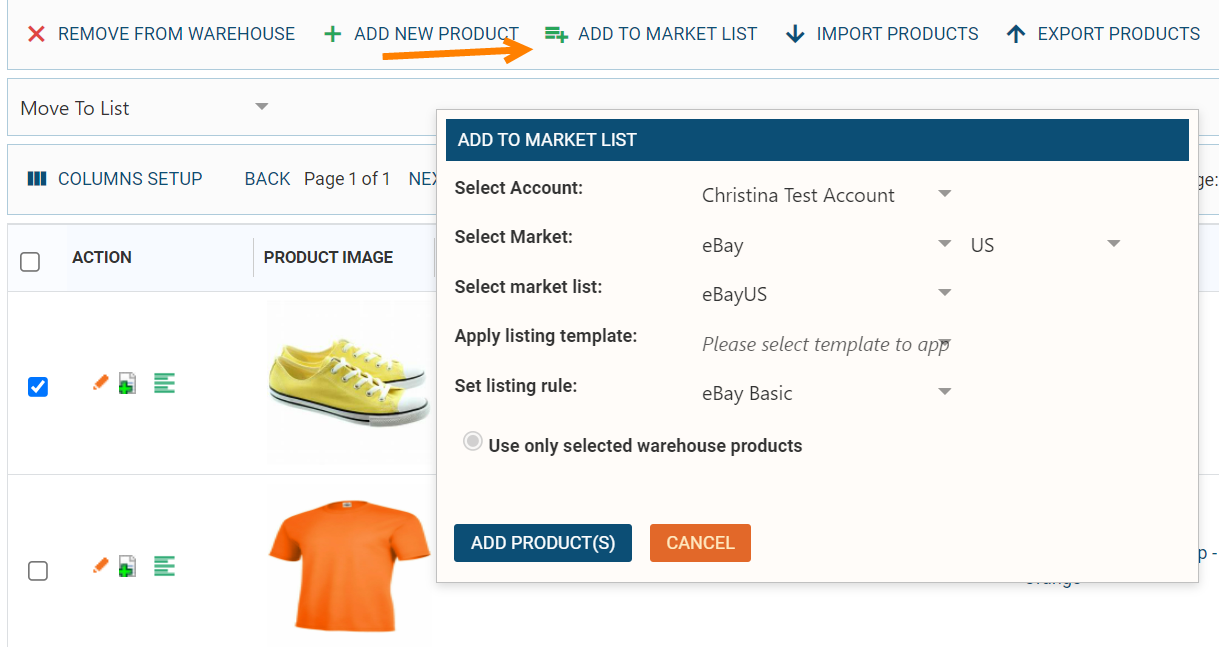 When we receive an order that has your FBA Warehouse as the PO Source, we automatically send the order information to Amazon for fulfillment. As a note, Amazon requires us to provide a Packing Slip Comment. We send "Thank you!"
If you would like more information about listing to other marketplaces, please consult the documentation specific to those marketplaces.
Related Articles